10 Milestone Arbitration Cases
Case & Study
China International Arbitration Institute
China International Arbitration Review
Transnational Investment and Legal Training Centre
SCIA Seminar
10 Milestone Arbitration Cases
i.The Case with First Arbitral Award Enforced Overseas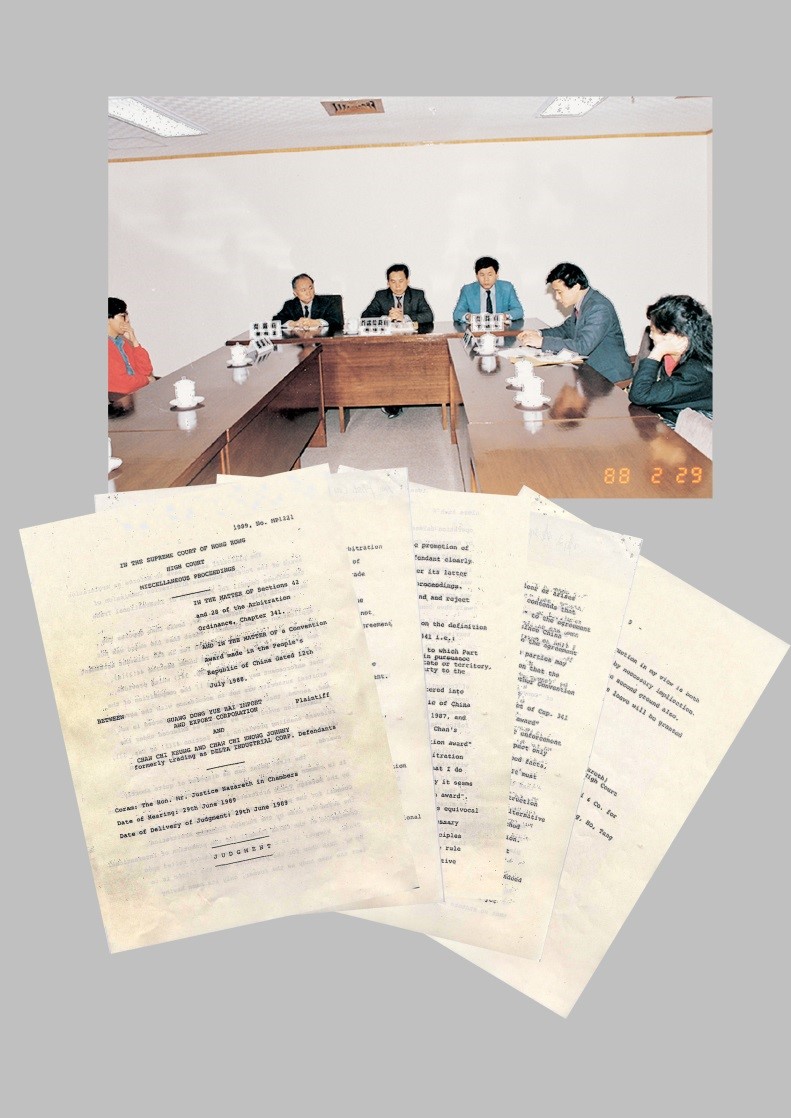 In December 1986, China acceded to the Convention on the Recognition and Enforcement of Foreign Arbitral Awards (the "New York Convention", with 162 contracting states so far). In 1987, a dispute over a cross-border trade contract arose between Guang Dong Yue Hai Import and Export Corporation and Delta Industrial Corp. Hong Kong. Both parties had agreed to submit their dispute to what is now SCIA for arbitration. The arbitral tribunal was composed of three arbitrators—ZHOU Huandong, DONG Yougan and LUO Zhendong. The case was heard in February, 1988 and an arbitral award was rendered in July, 1988. This arbitral award was enforced by the High Court of Hong Kong in June, 1989. It was the first arbitral award enforced by HK courts pursuant to the New York Convention and also the first arbitral award made in the mainland of China recognized and enforced abroad. Since then, China's arbitral awards have crossed the borders and gone global, and the arbitral awards of SCIA have been widely enforced abroad.
ii. The Case with the Largest Disputed Amount in China's Arbitration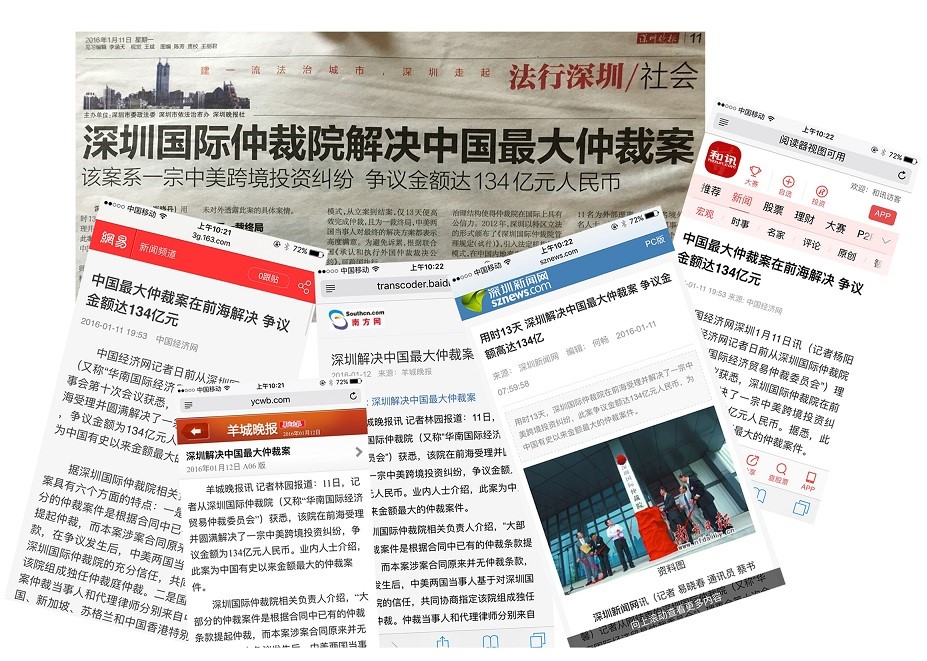 In 2015, SCIA accepted a cross-border investment dispute between Chinese and American companies, in which the amount in dispute exceeded CNY 13 billion, making the case the current record holder in China's arbitration history. The three parties in the case came from both China and the United States, and their representatives came from five different countries and regions. Since the disputed contract contained no arbitration clause, talks among the parties had reached a complete deadlock after the dispute arose. Through mutual consultation, the three parties from China and the United States jointly designated SCIA to resolve the dispute and appointed SCIA President LIU Xiaochun to serve as the sole mediator and then the sole arbitrator in this case. A mode of "Arbitration + Mediation" was adopted in this case and, with the agreement of all three parties, an expert group was introduced to assist with the hearing. From the date the case was filed to the date the case was closed, it only took SCIA 13 days to efficiently and successfully resolve this complicated dispute with a large disputed amount, and a win-win situation was created. The parties and representatives from different countries expressed their appreciation and gratitude for the independence, impartiality, efficiency, innovation and professionalism of Shenzhen international arbitration.
iii.A Milestone Arbitration Case to Optimize International Business Environment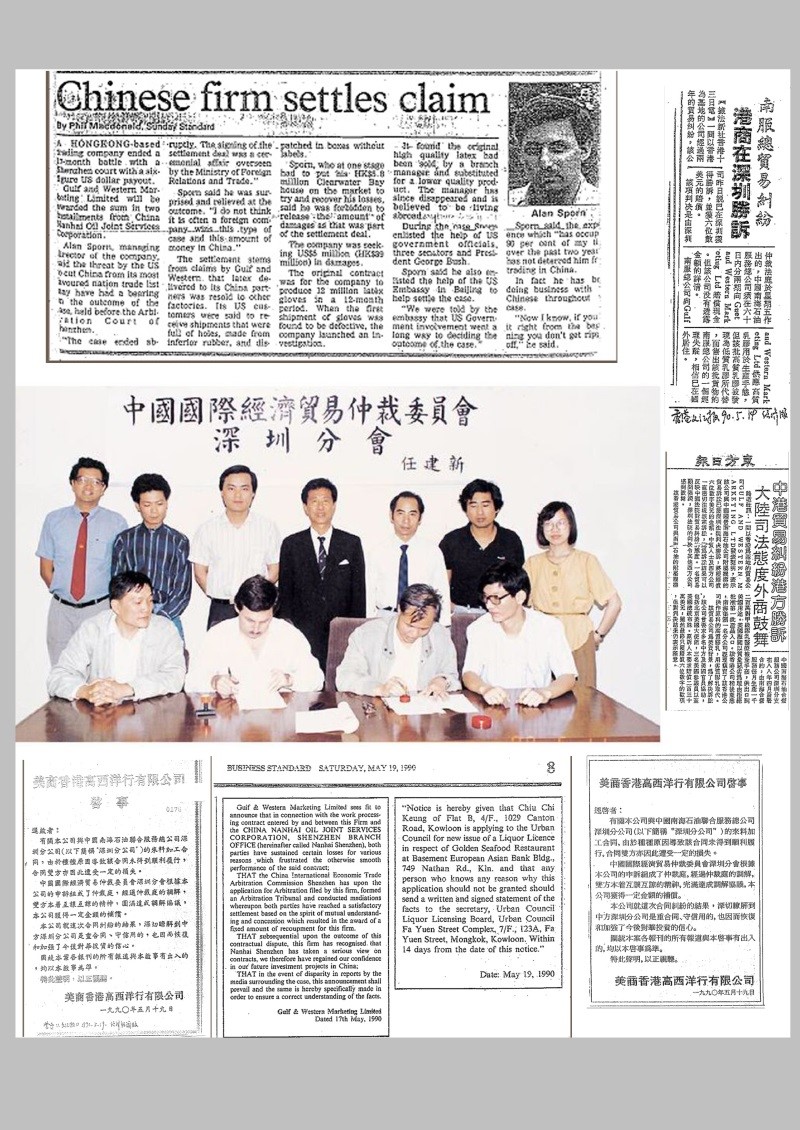 In 1989, a dispute over an international trade contract arose between an American Company based in HK and the South China Sea Petroleum Service Corporation. Although the HK-based American company had expressed from overseas its doubt about the investment and legal environment of Shenzhen and China, a fair and impartial arbitral award was rendered in May 1990 by the arbitral tribunal composed of YU Daxin, DONG Youhuan, LI Zepei. Both parties were highly satisfied with SCIA. As a result, the American company published notices in more than ten foreign newspapers, declaring that "foreign investors are greatly encouraged", which "restored and enhanced foreign investors' confidence in their investment in China". The practice of international arbitration in Shenzhen proves that arbitration is well adapted to the demands of China's reform and opening-up and is an integral part of China's internationalized business environment under the rule of law.
iv. A Milestone Mediation Case of a Transnational Dispute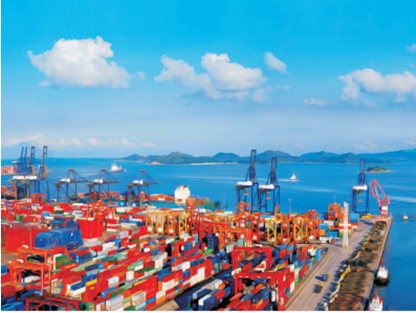 In 1988, a company in Guangdong province of China submitted a dispute to SCIA pursuant to the arbitration clause in the disputed contract. The dispute arose because a Japanese company failed to arrange shipments under a ban imposed on all its exports, as the Japanese company was suspected of providing precision lathes for the Soviet Union in violation of NATO regulations. The arbitral tribunal was composed of DONG Yougan, GUO Xiaowen and WANG Zhaoyuan. With the agreement of both Chinese and Japanese parties, the tribunal actively mediated between the parties and successfully helped them to reach a settlement agreement. The parties were very satisfied with the mediation, and the Japanese company said the mediation scheme would be a sample for it to handle similar disputes.
v.The First HK-related "Cross-Century" "Collective Arbitration" Case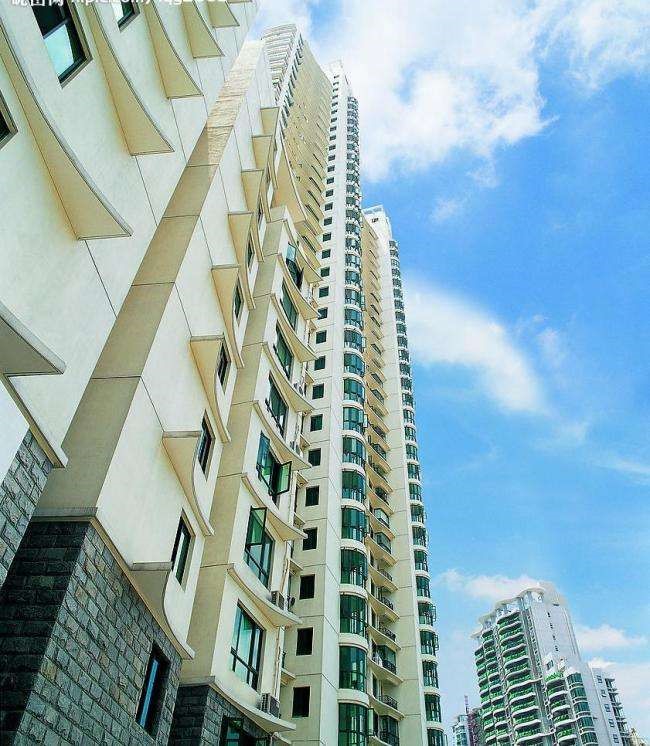 A HK property developer cooperated with a municipal state-owned enterprise on the Chinese Mainland to develop a property in 1992 and about 800 units were sold to HK residents. Unfortunately, the property was left unfinished and its developers escaped as they were incapable of solutions, putting hundreds of HK households and thousands of HK residents in danger of losing all their investment. After July 1, 1997, the day HK returned to China, HK residents who had invested in that property had expressed their dissatisfaction through petitions, appeals, processions, assemblies and other means in both the Mainland and HK. However, their problems remained unsolved, creating tremendous adverse impact on both the Mainland and HK. In order to resolve this HK-related "cross-century" class dispute, SCIA specifically set up a "classarbitration" mechanism in 2014 and accepted 478 relevant cases in accordance with law. Fair and impartial arbitral awards were rendered within just three months to protect the legitimate rights and interests of HK investors and safeguard the social stability of HK.
vi.The First Case under the Commercial Mediation Cooperation Mechanism in Guangdong, HK & Macau Great Bay Area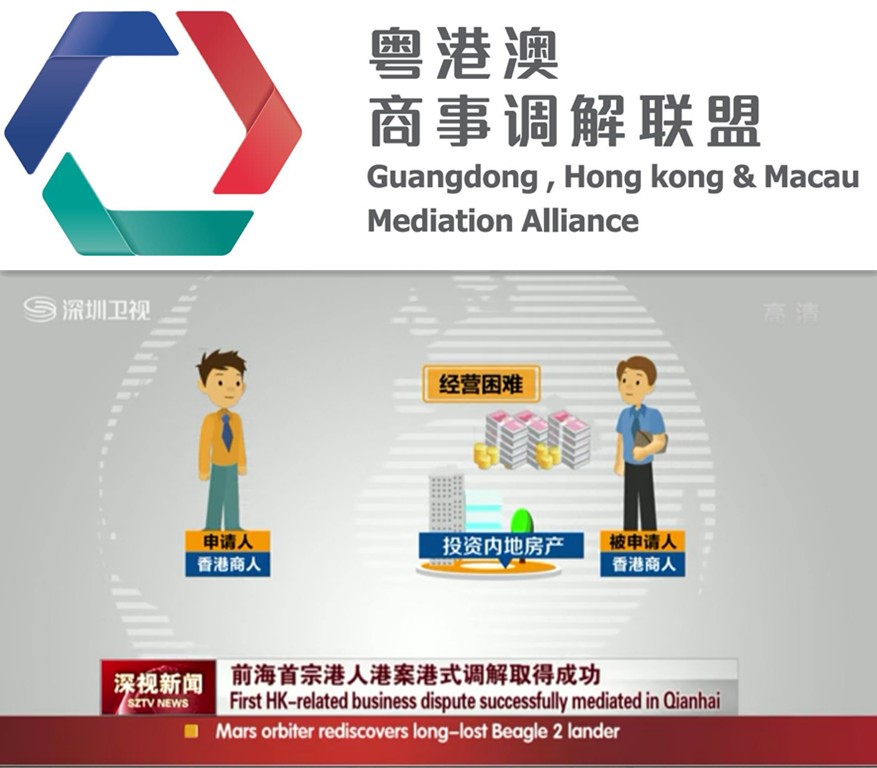 A dispute over an investment cooperation arose between two HKresidents in a province of the Chinese Mainland, with the amount in dispute reaching CNY 50 million. Five years passed and their dispute remained unsolved after the parties had resorted to negotiation, litigation and administrative remedies. In early 2014, both parties learned that in December 2013, SCIA initiated the Guangdong, Hong Kong & Macau Arbitration Mediation Alliance (the Alliance) in Qianhai. After taking into account trade secrets, overseas enforcement, long-term cooperation relations and other factors, the parties jointly applied to the Alliance for mediation and they both agreed to designate SCIA Mediation Centre out of 15 Alliance members to handle the case. A HK mediation expert served as mediator in the case. After seven hours of mediation, the parties reached a settlement agreement in Qianhai, and jointly applied to SCIA for rendering an arbitral award, pursuant to the procedural guidelines of the Alliance. The "Case between HK Parties with HK Mediator in HK Style" was the first case accepted by the Guangdong, Hong Kong & Macau Mediation Alliance, providing pioneering experience for the innovative practice of the cross-border commercial dispute resolution mechanism in Guangdong, Hong Kong and Macau Great Bay Area.
vii.A Milestone Arbitration Case to Resolve Deadlock for Chinese Listed Companies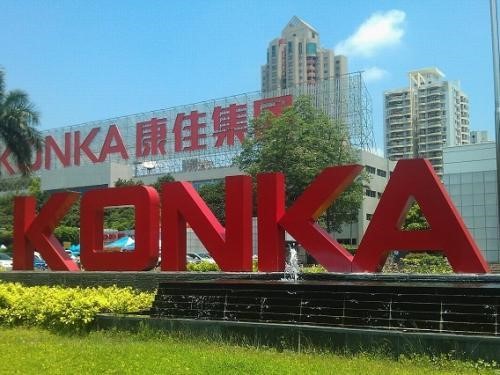 Konka Group and Overseas Chinese Town Limited are two well-known listed companies affiliated with each other. However, the two companies reached a deadlock in 2015 due to a dispute over land use rights. This dispute not only involved huge economic interests between the parties, but also affected interests of a large number of investors of the two companies, thus attracting attention of tens of thousands of investors in the capital market. Mr. WANG Qianhua, the sole arbitrator of this case, rendered a timely arbitral award after conducting an in-depth analysis of evolution and development of land policies and land systems in Shenzhen over the past 30 years and combing through the correspondence between the two parties over the years. The parties disclosed the award in full in accordance with the Securities Law of P.R.C. The case highlights SCIA's abilities to solve difficult and complicated disputes, and is an excellent model for properly solving the deadlock in corporate governance of listed companies, protecting the legitimate rights and interests of investors and creating a good investment environment in the capital market.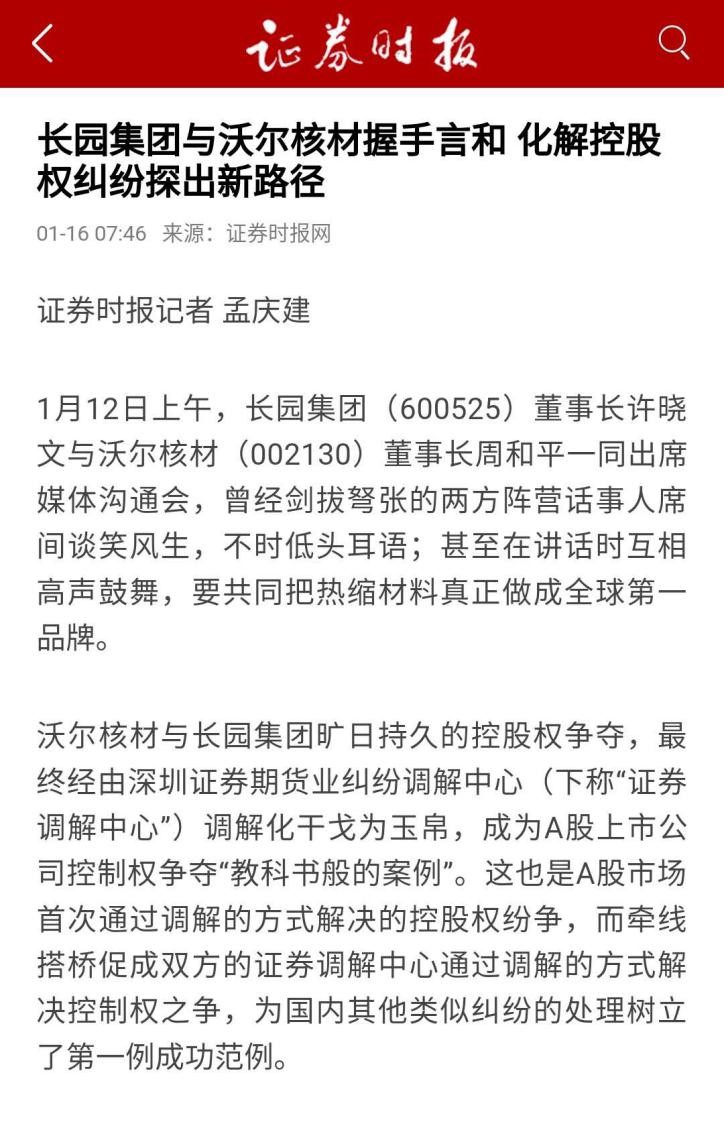 viii.The First Case of Chinese Listed Companies' Control Right Dispute
Changyuan Group and its shareholder Shenzhen Woer Heat-Shrinkable Material Co., Ltd. are both listed companies in China. For as long as four years, the two companies fought fiercely against each other for the right of control, which have attracted wide attention. In December 2017, both companies submitted their dispute to Shenzhen Securities and Futures Dispute Mediation Centre (the Centre), the establishment of which was initiated by SCIA,CSRC Shenzhen Regulatory Bureauand Shenzhen Stock Exchange. The case was mediated by three mediators —Qiu Yonghong, Song Pingping and Che Jun. As a win-win solution, a settlement agreement was reached in January 2018, and both parties applied to SCIA for rendering an arbitral award in accordance with terms of the settlement agreement. The successful resolution of this dispute were unanimously appreciated by investors in the capital market. A lot of domestic and foreign media have reported on the case, calling it a "textbook case" for the fight over the control right of A-share listed companies. According to Yuan Xiaode, the Chairman of the Centre, a ""four-in-one"" mechanism of "professional mediation, commercial arbitration, industrial self-discipline and administrative regulation" represented by this case would play an even bigger role in resolving disputes over the control rights of listed companies and disputes over merger & acquisition.
ix.The First Case of "Class Mediation" in China's Capital Market
In April 2014, disputes arose between a listed company "Hirisun" and its
investors due to false statements. Nearly 10,000 investors around the country were involved. The same year in July, the major shareholders of Hirisun set up a special compensation fund. Shenzhen Securities and Futures Dispute Mediation Centre (the Centre), initiated by SCIA, CSRC Shenzhen Regulatory Bureau and Shenzhen Stock Exchange, had participated in the design and implementation of this compensation fund scheme. Some investors who did not accept the compensation scheme applied to the Centre for mediation. Mediators used telephone, remote video, on-site meeting and other means to mediate between Hirisun and its investors. Thanks to mediators' efforts, 9,823 investors reached settlement agreements with Hirisun, and their disputes were properly resolved.
x.The First Negotiation Facilitation Case in China
In December 2016, SCIA took the lead in establishing a Negotiation Facilitation Centre, which was praised by the "Global Arbitration Review" as the newest institutional innovation in Shenzhen. The same month, the Centre was invited to enter a shanty town located at a former enclave in Luohu district to facilitate the negotiation of "China's most difficult shanty town renovation" project. This project covered an area of 600,000 square meters with more than 86,000 residents. The construction area was about 1.3 million square meters, and about 1,392 buildings were to be demolished. SCIA has dispatched more than 90 negotiation experts to facilitate negotiations in an efficient and harmonious way. Within three months, as high as 98% of residents have signed the "Pre-Demolition Agreement on Compensation and Relocation".