Introduction
Arbitration Centre
Experts Committee
Qianhai Maritime & Logistics Arbitration Center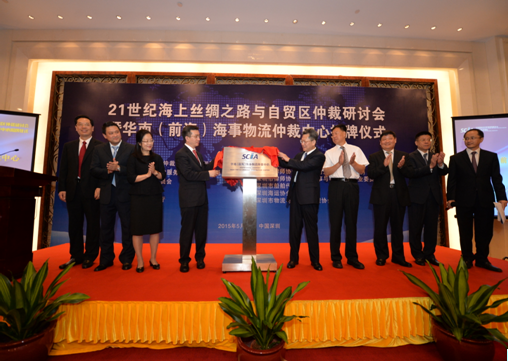 In order to further play the unique role as International arbitration institution for the Greater Bay Area's economic strategy going forward and to refine arbitration services, Shenzhen Court of International Arbitration (SCIA) established the SCIA Qianhai Maritime and Logistics Arbitration Centre in Qianhai in conjunction with the Authority of Qianhai, the Shenzhen Transportation Committee, the Shenzhen Maritime Safety Administration and the Hainan Provincial Oceanic and Fishery Administration to resolve maritime and logistics disputes.
SCIA Qianhai Maritime and Logistics Arbitration Centre employs judges of the Supreme People's Court and related courts; famous domestic and foreign maritime, shipping, and legal experts; well-known maritime lawyers as well as other experts and scholars in an experts committee that provides guidance for international and specialized development. In December 2015, SCIA established the Panel of Arbitrators of SCIA Qianhai Maritime and Logistics Arbitration Centre. This institution was highly internationalized because of its industrial characteristics. It now has 112 arbitrators, 50 from Chinese mainland and 62 from overseas. The foreign arbitrators account for 55.4%. This includes Ian Gaunt, chairman of the London Maritime Arbitrators Association, and Mr. STON Clive, the former chairman. Other top experts from Britain, the United States, Canada, the Netherlands, and Hong Kong who are specialized in maritime affairs, shipping, aviation, and logistics are also within this. In view of foreign-related factors and the special characteristics of maritime, logistics, and shipping-related businesses, SCIA, by learning from UNCITRAL Arbitration Rules and the rules of other world-famous maritime arbitration institutions, and in combination with the practice and latest development of the maritime and logistics industry in Chinese mainland, formulated SCIA Rules of Maritime and Logistics Arbitration. By consulting both domestic and foreign experts and fully considering the convergence between relevant industry arbitration rules and general rules, SCIA carefully studied the special circumstances of maritime business cases and formulated special provisions in such aspects as procedural duration, interim measures, and the establishment of an emergency arbitrator.
In 2016, on-trend with "Internet Plus", the maritime law intelligent analysis system established by SCIA Qianhai Maritime and Logistics Arbitration Centre was officially launched to provide data support for accurate maritime jurisdiction.
In 2017, the maritime "mediation + arbitration" dispute resolution mechanism established in combination with the Shenzhen Maritime Safety Administration was officially launched. In the same year, SCIA and the Guangzhou Maritime Court signed a cooperation agreement to formally establish a "connection between litigation and mediation" mechanism for maritime affairs.
Model Arbitration Clauses
"Any dispute arising from or in connection with the Contract shall be submitted to the Shenzhen Court of International Arbitration (the SCIA) for arbitration in accordance with the SCIA Special Rules of Maritime and Logistics Arbitration."